Victor Valley Intergroup Central Office, Inc.
ALC

OHOLICS

ANONYMOUS
18888 Outer Hwy. 18, Suite 107 (Tao Rd. & Hwy. 18)
Apple Valley, CA 92307
Central Office Hours: 9:00 a.m. - 4:00 p.m., Mon. - Fri.
24 Hour Telephone: 760-242-9292
---
The Central Office will be open Monday Labor Day from 9AM-4PM
---
NEED HELP?
Do you or someone you know seem to have a problem with drinking?
"If, when you honestly want to, you find you cannot quit entirely, or if when drinking, you have little control over the amount you take..."
Click here to find tools to help determine whether you or your friend is an alcoholic and how to find recovery.
ALCOHOLICS ANONYMOUS ... IT WORKS IT REALLY DOES
(page 88 Alcoholics Anonymous)
---

Price is $12.96 including Tax
call the office at 760 242-9292 to pre order your copies.
Plastic book covers are also available at the central office - get yours today.
---
---
HELP WANTED
OUR CENTRAL OFFICE HAS THE FOLLOWING
OPPORTUNITIES FOR YOU TO BE OF SERVICE .
CALL FORWARDING
SATURDAY 9 AM TO 9AM
SUNDAY 9 AM TO 9AM
(EVERY OTHER SATURDAY & SUNDAY)
ALTERNATES NEEDED TO COVER SHIFTS
12 STEP LIST MEN AND WOMEN NEEDED IN ALL CITIES
A.A. MEMBERS WILLING TO TALK WITH NEWCOMERS ON THE PHONE
TO CARRY THE MESSAGE. SHARE EXPERIENCE, STRENGTH AND HOPE.
INTERGROUP REPS. FOR YOUR HOME GROUP
MONTHLY MEETINGS -3RD SATURDAY OF MONTH 9:30 AM
FOR MORE INFORMATION CALL CRAIG B. AT YOUR CENTRAL OFFICE 760 242-9292
---
WHAT IS A CENTRAL OFFICE?
"A central office (or intergroup) is an A.A. service office that involves partnership among groups in a community—just as A.A. groups themselves are partnerships of individuals. A central office is established to carry out certain functions common to all the groups—functions which are best handled by a centralized office—and it is usually maintained, supervised, and supported by these groups in their general interest. It exists to aid the groups in their common purpose of carrying the A.A. message to the alcoholic who still suffers."
- Reprinted from the A.A. Guidelines on Central or Intergroup Offices with permission of A.A. World Services, Inc
Your contributions are what make this all possible.
I am responsible . . . When anyone, anywhere, reaches out for help, I want the hand of A.A. always to be there. And for that: I am responsible.
Copyright © Alcoholics Anonymous World Services, Inc.
Please help us carry the message.
Click here - please give what you can.
---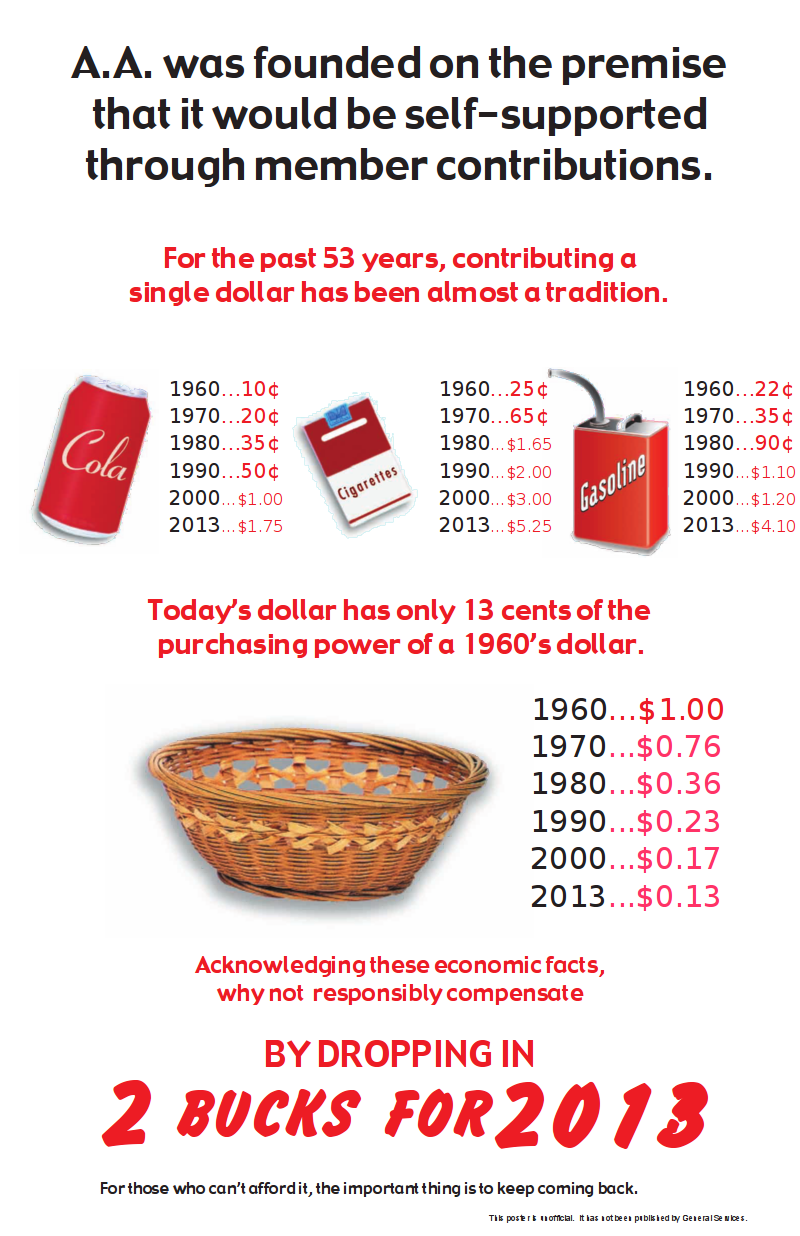 ---
Newsletter for the Fellowship
combined with the financials
---
If you are a current member of any A.A. meeting or group in the Victor Valley, please attend our next Intergroup Meeting to see how you can help! Click here for more details.
We are always in need of volunteers to help operate the Victor Valley Central Office of AA. If you are interested in helping out, please let us know by clicking here and filling out the volunteer form.
Thank you very much.