NEED HELP?
Do you or someone you know seem to have a problem with drinking?
"If, when you honestly want to, you find you cannot quit entirely, or if when drinking, you have little control over the amount you take..."
Click here to find tools to help determine whether you or your friend is an alcoholic and how to find recovery.
ALCOHOLICS ANONYMOUS ... IT WORKS IT REALLY DOES
(page 88 Alcoholics Anonymous)
---
HAPPYBIRTHDAY" TO BOB D.
(FORMERLY OF SILVER LAKES CA)
FOR HIS 59TH YEAR SOBER
THANK YOU FOR KEEPING THE DOORS OF A.A. OPEN FOR US.
JANUARY 19 1959
---
A MEMORIAL FOR JOHNNY G.
WILL BE HELD SATURDAY FEBRUARY 10 , 2018 AT 11AM
VICTOR VALLEY ALANO CLUB
11085 CENTRAL ROAD , APPLE VALLEY CA.
BRING YOUR FAVORITE DISH
---
THINGS WE CANNOT CHANGE
CHRIS C. OF THE BACK TO BASICS GROUP IN HESPERIA PASSED AWAY WITH OVER 32 YEARS SOBER.
JANUARY 2 1986
SERVICES WERE HELD AT THE CHURCH OF NAZERENE
TUESDAY JAN.23 2018. 8518 MAPLE AVE
---
NEW MTG.'S WRIGHTWOOD
TUESDAY & THURSDAY
10AM-11AM OPEN PART,
6020 PARK DRIVE BIG HORN BLDG (UPSTAIRS)
WRIGHTWOOD CA.
---
HELP WANTED
YOUR CENTRAL OFFICE HAS THE FOLLOWING
OPPORTUNITIES FOR YOU TO BE OF SERVICE .
CALL FORWARDING
SATURDAY 9 AM TO 9AM
SUNDAY 9 AM TO 9AM
(EVERY OTHER SATURDAY & SUNDAY)
ALTERNATES NEEDED TO COVER SHIFTS
12 STEP LIST
MEN AND WOMEN NEEDED IN ALL CITIES
A.A. MEMBERS WILLING TO TALK WITH NEWCOMERS ON THE PHONE
TO CARRY THE MESSAGE. SHARE EXPERIENCE, STRENGTH AND HOPE.
INTERGROUP REPS.
FOR YOUR HOME GROUP
MONTHLY MEETINGS -3RD SATURDAY OF MONTH 9:30 AM
FOR MORE INFORMATION CALL CRAIG B. AT YOUR CENTRAL OFFICE 760 242-9292
---
WANTED!
NEWSLETTER EDITOR
If you are looking for a commitment along with a way to be of service, this might be for you! We are in need of an editor for our Newsletter for the Fellowship. Here are some of the requirements:
1. One year of continuous sobriety (There is some flexibility.)
2. A personal computer with Microsoft Publisher or equivalent
3. A knowledge of Microsoft Excel useful
4. Knowledge of typesetting
5. Write, acquire, organize, and typeset content
6. Typeset monthly Financial Statements
7. Email completed copies to subscribers
8. Prepare a PDF copy for Print Mart and email to them
9. Pick up newsletter from printer and mail them to our postal subscriber.
10. Drop of newsletters to Central Office
If you are interested, please call Craig B. at the office at 760-242-9292.
---
---
WHAT IS A CENTRAL OFFICE?
"A central office (or intergroup) is an A.A. service office that involves partnership among groups in a community—just as A.A. groups themselves are partnerships of individuals. A central office is established to carry out certain functions common to all the groups—functions which are best handled by a centralized office—and it is usually maintained, supervised, and supported by these groups in their general interest. It exists to aid the groups in their common purpose of carrying the A.A. message to the alcoholic who still suffers."
- Reprinted from the A.A. Guidelines on Central or Intergroup Offices with permission of A.A. World Services, Inc
Your contributions are what make this all possible.
I am responsible . . . When anyone, anywhere, reaches out for help, I want the hand of A.A. always to be there. And for that: I am responsible.
Copyright © Alcoholics Anonymous World Services, Inc.
Please help us carry the message.
Click here - please give what you can.
---
"When making contributions to Central Office"
Make checks payable to Victor Valley Intergroup not AA or just Central Office
AND ENCLOSE GROUP OR MEETINGS NAME EX. How it Works -Apple Valley
NOT GROUP NUMBERS
THANK YOU
---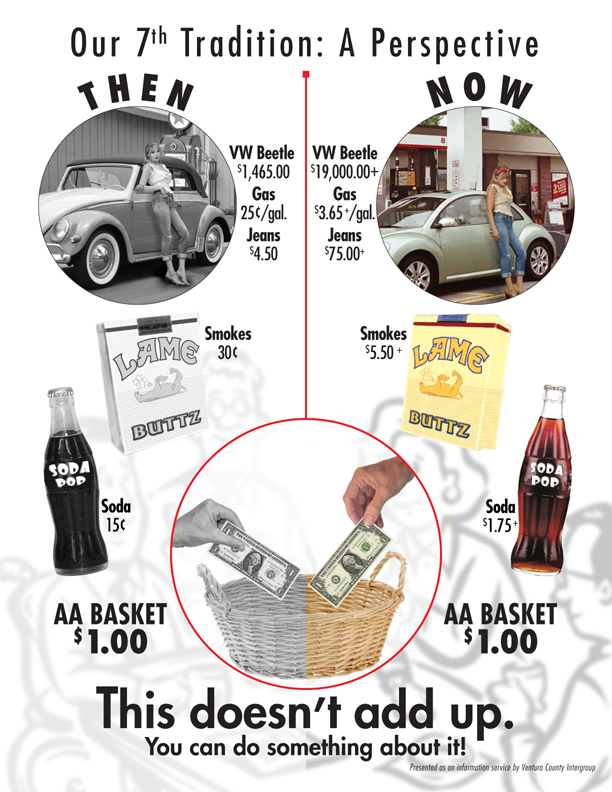 credit: Ventura County Intergroup
---
Newsletter for the Fellowship
---
If you are a current member of any A.A. meeting or group in the Victor Valley, please attend our next Intergroup Meeting to see how you can help! Click here for more details.
Thank you very much.